Milestones of a Typical Documentation Project
What is the typical workflow of a documentation project? Which milestones should you schedule when planning a technical documentation or software documentation project? What tasks and steps are required to create a user manual, an online help system, or a screencast?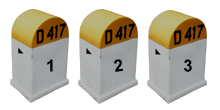 Single tasks can always be handled flexibly. Larger documentation and online help projects typically involve the following milestones:
Usually, to make a bid, a documentation service provider will need some background information, which you can best provide during a short phone conversation. To prepare for this, it's helpful if you can assemble some facts about your product in advance (such as specifications, sales material, demo versions, etc.). If existing documents are to be completed or updated, the service provider will also need to be able to take a look at these documents.
Documentation service providers usually base their offers on a preliminary time estimate. With larger projects, there are typically several approaches to a solution. Often, the best alternative can only be determined from the result of an in-depth target group analysis.
Only after you've decided on a specific alternative, can the cost of authoring and implementation be calculated reliably and in detail. For this reason, many offers are split into two phases: concept and authoring.
It's a good idea to accept an initial bid only for the concept. This leaves you the option to back out and change contractors in case you're not fully satisfied with the work. Also, after the concept has been agreed on, you can ask for a much more detailed and definite offer for the authoring phase.
In either case, you should designate one or more people within your company as being qualified to answer questions about your product, its users, and their goals.
If your project involves the creation of new documentation from scratch, the first step of your documentation service provider will be to work out a documentation plan.
If possible, the concept defined in the pan should be presented and discussed personally. It's important that this discussion involves your product experts as well as product management and all authors who will have to implement the concept.
Your documentation service provider begins authoring and finally presents the results for review and approval.
If possible, you should plan the project so that completed parts are reviewed as soon as possible. This shortens the "throughput time" of your project and enables you to identify and resolve any systematic, recurring problems early on. However, please don't ask your documentation service provider to hand over parts that aren't yet final. This would result in extra work on both sides.
It's good practice to split the review tasks as follows:
▪Have subject matter experts from development check the technical details.
▪Have a product manager or documentation professional crosscheck for general and formal issues.
The documentation service provider implements what was decided on as a result of the review, and then delivers the printer's copy (PDF) or the distributable online help files to you.
Your final approval completes the documentation project.
Your documentation service provider should inform you at regular intervals on the progress of the project. A proven option is a weekly status report, which lists all agreed changes, progress, and deadlines. This enables you to ensure that everything runs smoothly on time and within budget, and it gives you the chance to resolve problems early on, if needed.