Technical Documentation Starter Template
The Technical Documentation Starter Template is a professional template for creating clearly laid out, appealing user manuals and other forms of technical documentation (format: Word / OpenOffice / LibreOffice).
Don't waste your time by setting up a template from scratch yourself.
Purpose and functions
You can use the Starter Template (Word / OpenOffice / LibreOffice) to format user manuals, user guides, and all other forms of operating instructions and technical writing.
Unlike many free templates, it's a professional user manual template suitable for commercial use.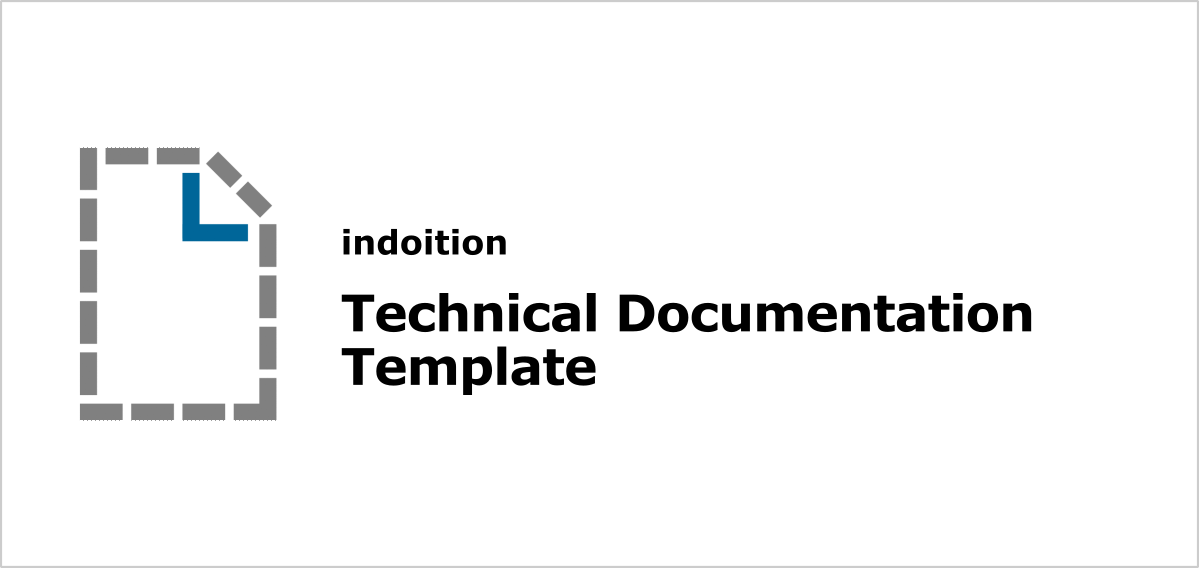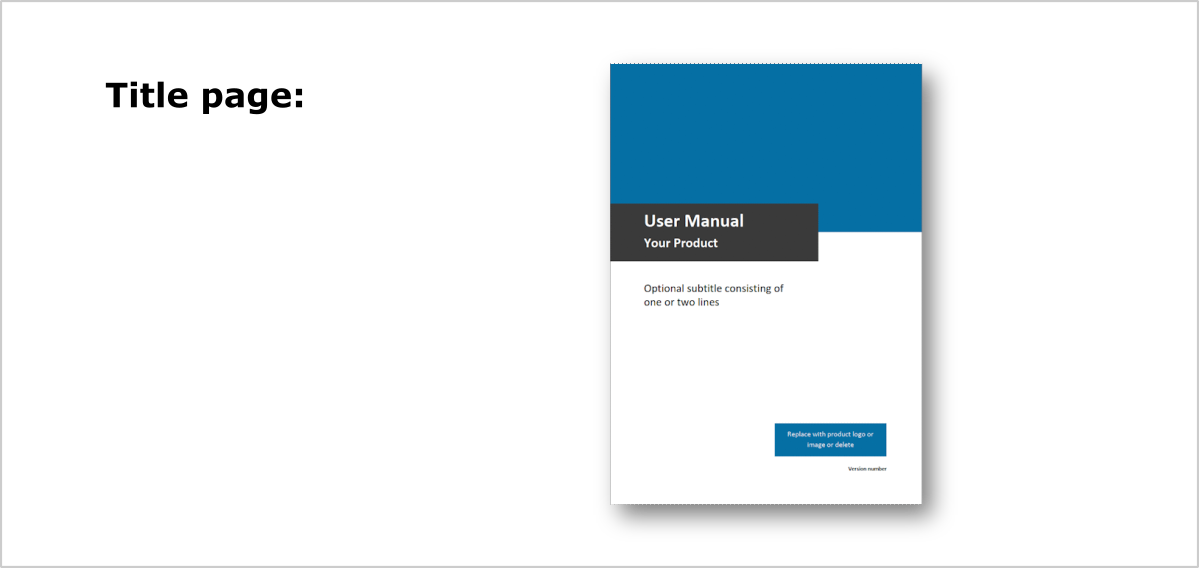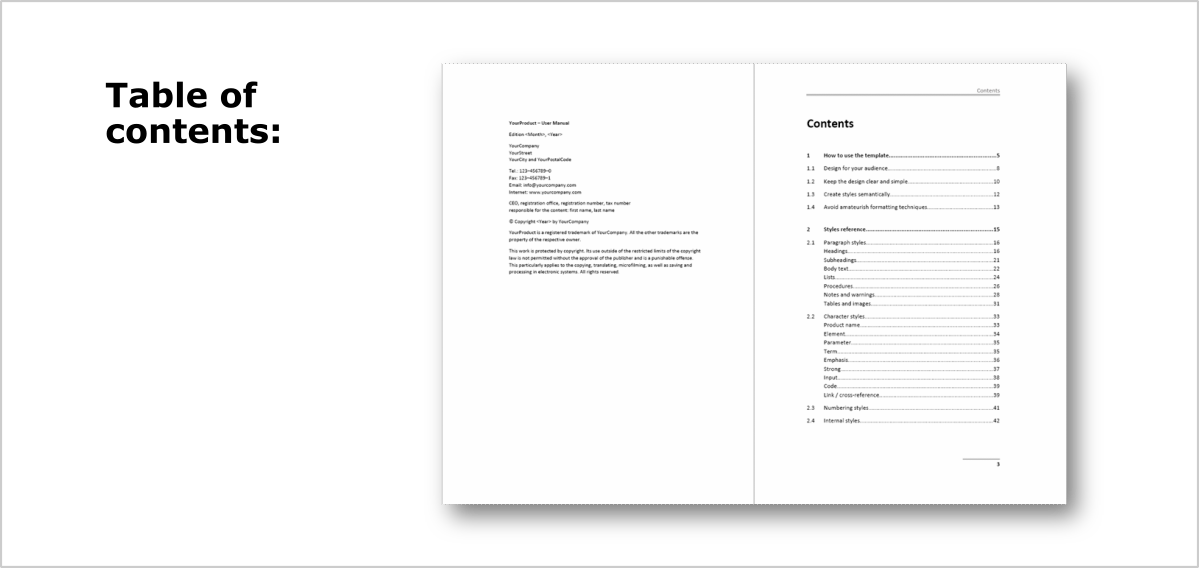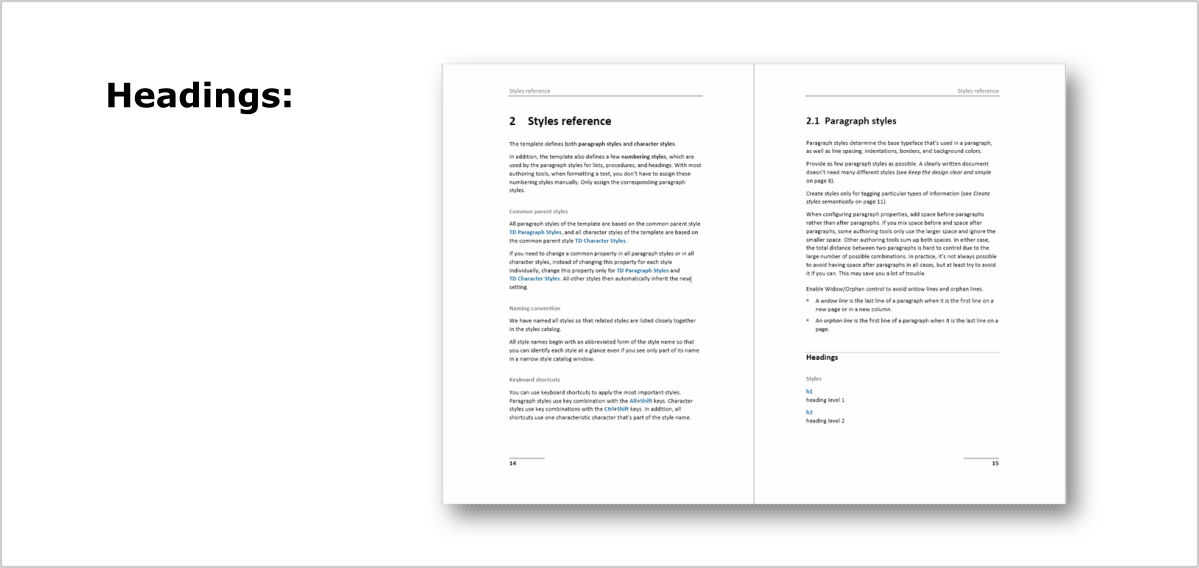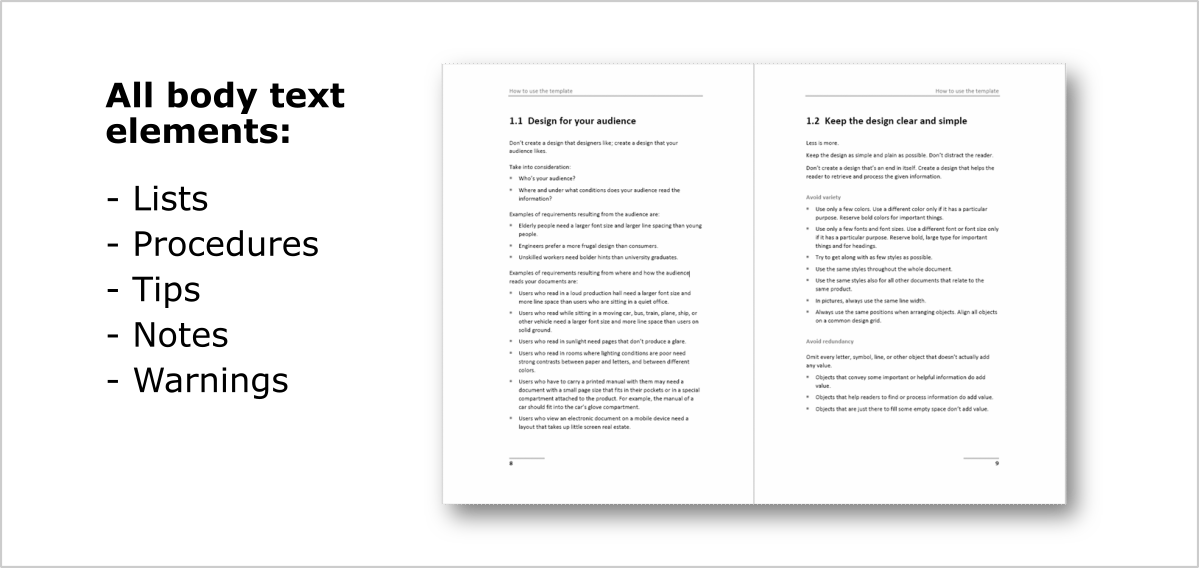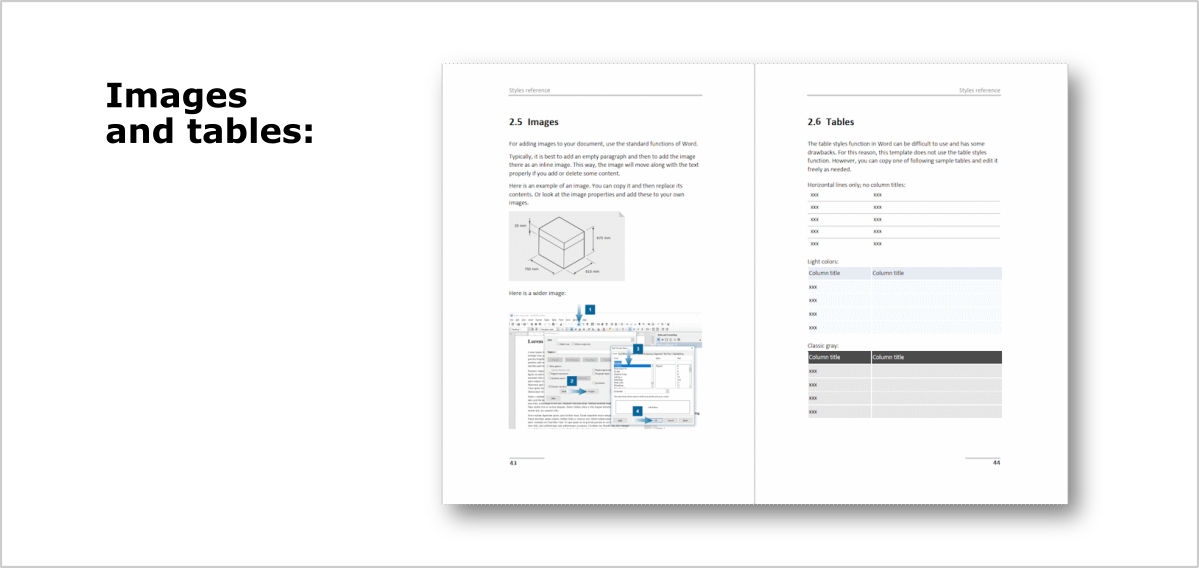 Benefits from using the template
Many authoring tools don't come with an adequate template for creating clear, appealing user manuals, and setting up your own template from scratch can be time-consuming. The Technical Documentation Starter Template speeds up this process and prevents you from making costly strategic mistakes:
▪When creating technical documentation, aesthetics isn't the only important feature of a well-designed template. In user manuals, readability and simplicity are just as crucial. The design must both please the eye and communicate your message clearly.
▪Paragraph styles and character styles need to be efficient to use for the author when writing and updating the document. Because most technical documents are updated frequently, an efficient use of the template is even more important than with other document types.
With the Technical Documentation Starter Template, you get a preconfigured template created by an expert who has been in the technical communication business for many years and who knows, from his own experience, what makes a template both user-friendly and author-friendly.
Key features
The Starter Template has been designed for Microsoft Word 2010 and later, as well as for OpenOffice and LibreOffice version 3 and later. Paper sizes are A4 and Letter. If you use a different paper size, basically all you need to do is to change the page margin settings.
Many other authoring tools can import Microsoft Word files (*.docx) and OpenOffice / LibreOffice OpenDocument Text files (*.odt) as well, such as FrameMaker, WordPerfect Office, SoftMaker Office, Doc-To-Help, RoboHelp, Help & Manual, Flare, and many others.
The Technical Documentation Starter Template is both efficient and effective:
▪no bells and whistles—the template contains only what you and your readers really need
▪automated styles that eliminate a lot of manual formatting; optimized settings for automatic line breaks and page breaks
▪uses a time-tested, systematic scheme for style names and keyboard shortcuts
▪works with all language versions of Microsoft Word, OpenOffice, and LibreOffice—no need to edit style names and field codes if you're using a localized version of your authoring tool
▪well-prepared for being able to create online help from your document files as well with the help of an appropriate single source publishing tool or converter
▪includes detailed instructions on how to use the styles, and on how to change them if necessary
Sample pages
The following pictures are taken from the design guide that comes with the Template. This design guide has been completely formatted with the help of the Starter Template.
Click the images to enlarge them.
Title page:
Table of contents: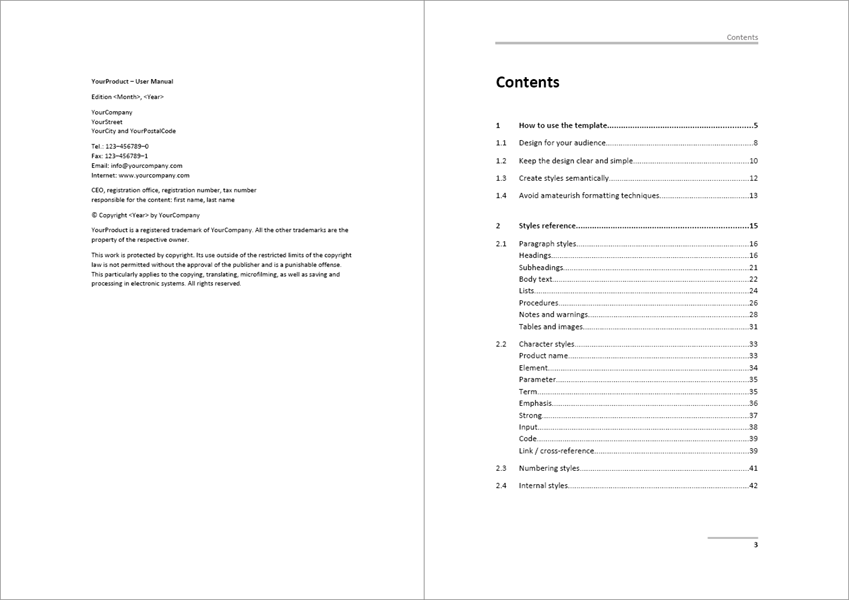 Headings: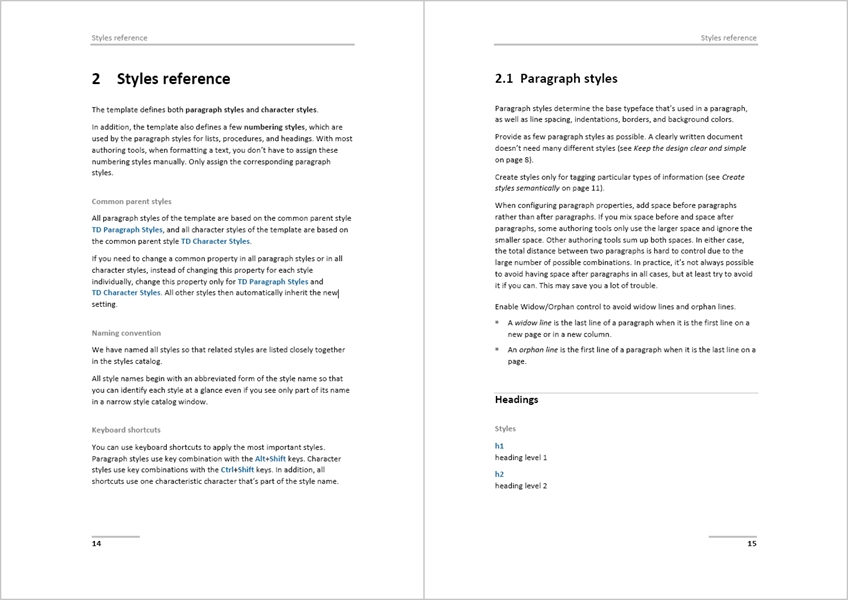 Body text: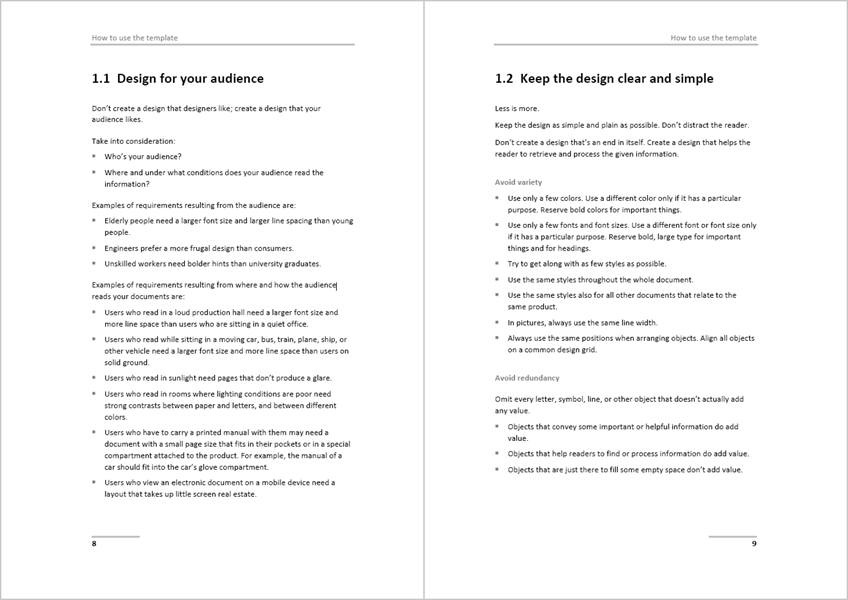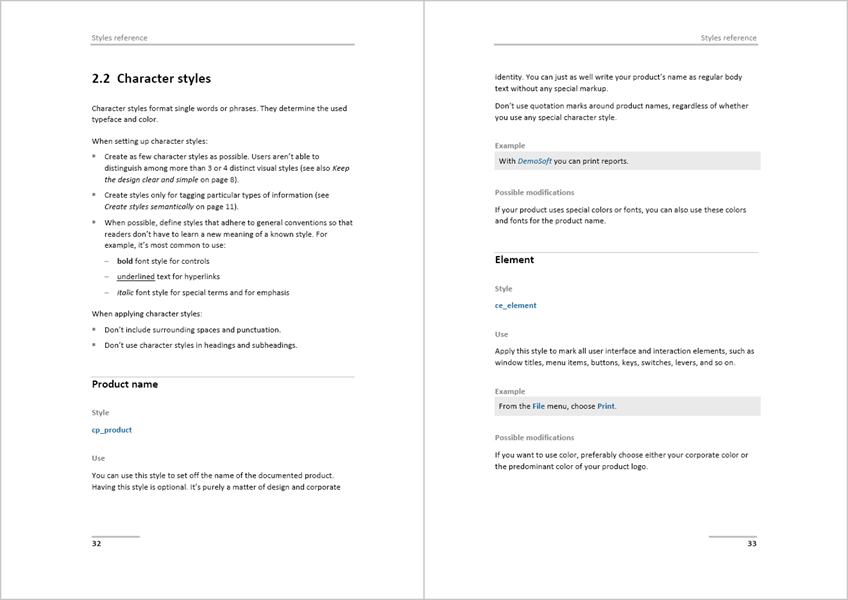 Alphabetical index: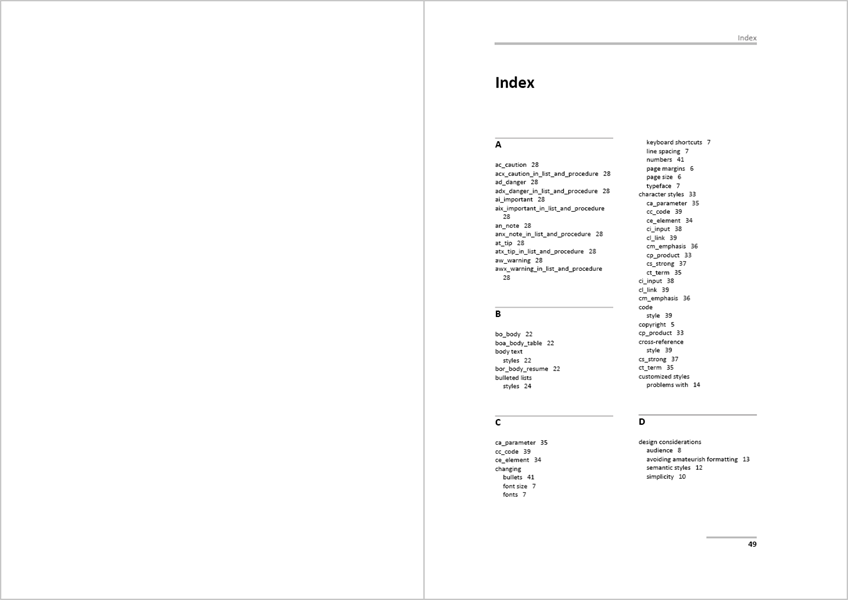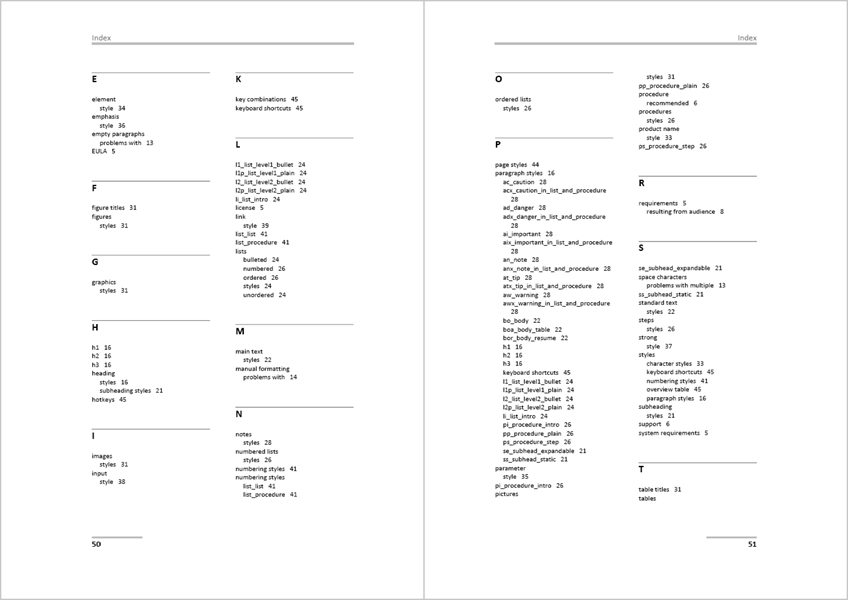 Online conversion (example)
Documents created with the Technical Documentation Starter Template can easily be imported into most online help authoring tools and then converted into online help. For example, the following picture shows an online help system that was generated with the help authoring tool "Help & Manual". The whole process took less than 10 minutes.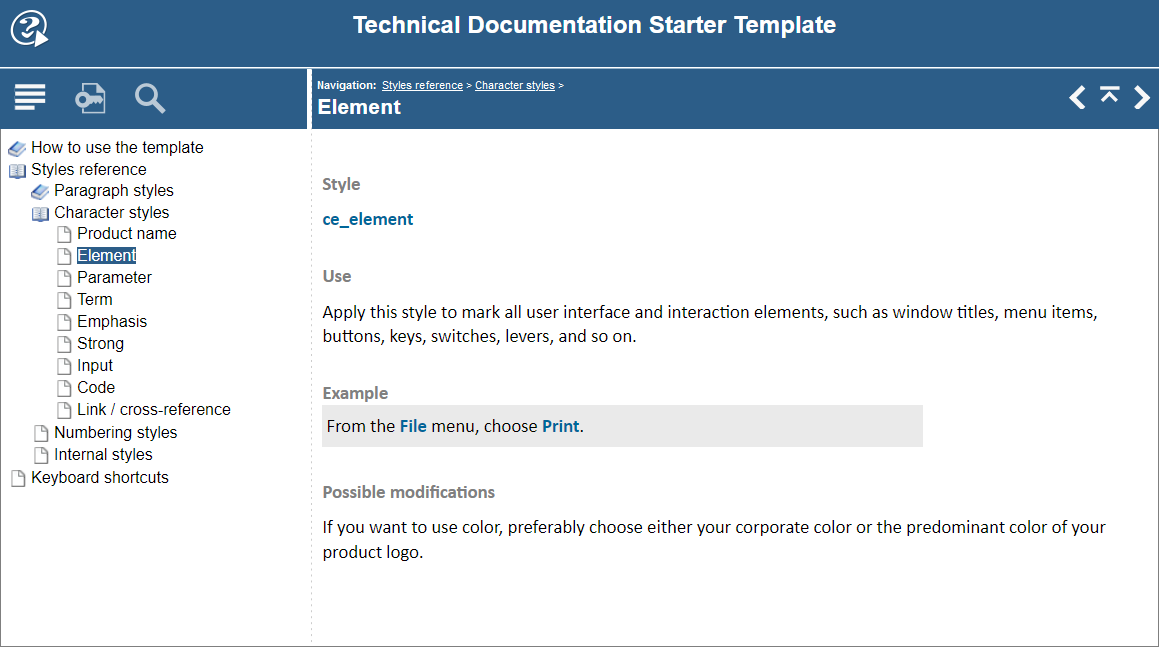 Get your copy
The price for a perpetual license of the template is €19 (plus VAT if applicable).
The product is sold by MyCommerce – Digital River GmbH. Prices subject to change.
Please note the license terms.
Version for Microsoft Word and compatible editors:

Version for OpenOffice / LibreOffice and compatible editors:

See also my other technical documentation work aids.